Published 15 November 2019
FTAdviser's Top 100 Financial Advisers list has ranked Punter Southall as one of the UK's very best.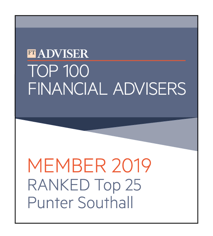 The Top 100 ranks companies by looking at factors important to clients seeking the best person to assist them with their finances.

Punter Southall rank 16th in the list, which showcases some of the best financial advisory businesses working in the UK.
In compiling the list, FTAdviser look at the growth rate of the advisory businesses, the number of years' experience each business has managing assets in different economic and interest-rate environments, and how well-qualified their advisers are. This year's list also rated businesses on their ability to keep advisers in their ranks.

Since 1988, Punter Southall has successfully helped people and organisations build, shape and protect their financial futures. You can find out more about the businesses in the Punter Southall group here.