More money when it's really needed
Preparing your staff for retirement is becoming a bigger – and harder - part of the job for HR and employee benefits professionals.
One of the ways you can really help them is demonstrating how they may be able to use their pension to be thousands of pounds better off.
Chances are, your workforce don't know what they could get from each retirement option, including the value of an annuity.
Pension Potential shows them at no cost to you and it's free to use for them.
Add it to your intranet or range of employee benefits to: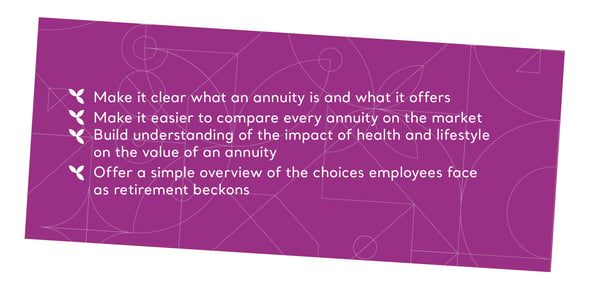 Approaching retirement, you probably find employees look to you for support for the next stage of their lives.
Pension Potential gives them the help they need, online and with the option to talk on the phone or in-person.
What's an annuity?
Unsure how annuities work and why they can be a useful financial solution for retirees looking for a guaranteed income from their pension savings?
In this short video, Alan Morahan explains:
Pension Potential: a free service to help your employees
Pension Potential is a tool to help your people see how they could have thousands more for life after work at no cost to you.
We believe in breaking down barriers to thinking positively about retirement. Pension Potential takes another step towards that destination.
Pension Potential is a trading name of Punter Southall Defined Contribution Consulting Limited, which is authorised and regulated by the Financial Conduct Authority. Our Financial Services Register reference number is: 121328. Registered Office: 11 Strand London WC2N 5HR. Registered in England and Wales No 0873463.