Financial Planning
Why is financial planning important?
The benefits of a sound financial plan with well-selected investments unfold over years, sometimes decades.
Formulating a comprehensive plan and wealth management strategy will help to create a more secure financial future.
Punter Southall Aspire Financial Planning
We are chartered financial planners, publicly committed to a customer-first approach and values that align with a professional Code of Ethics.
We'll provide solutions relevant to your needs, maintaining our knowledge through qualifications and ongoing professional development.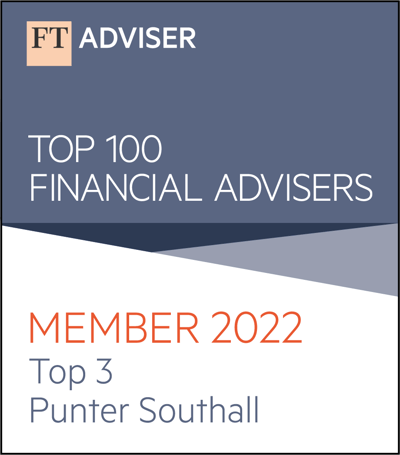 We are proud to achieve
Number three in FT Adviser's Top 100 firms
We have been ranked number three in the UK in FT Adviser's Top 100 Financial Advisers for 2022.

Achieving Chartered status for its financial planning arm was judged to be a significant factor in placing third with 17 of the top 20 companies accredited in this way.

Other factors taken into account were how long teams had managed assets, the rate at which companies had grown and their experience operating in different economic and interest-rate environments.

Punter Southall's financial planning business numbers among only 14 per cent of firms to be granted Chartered status, a qualification earned by going above and beyond for clients.
Creating clarity from complexity
We provide personalised financial advice to a wide range of clients. They have varying financial needs, concerns and goals, but many share the same common desire to make their money work for them.
How we help
We help our clients create clarity from complexity.
We help take away the burden of the bewildering array of financial products and services to choose from: some good, some indifferent, and some bad. We take the pressure off and remove some of the potential pitfalls from hasty decision-making.

What we do
Our clients need us for a variety of reasons and at different stages of their financial journeys, from the challenges of building and maintaining wealth, to the complexities of sharing it.
We help them make plans for the future and stay with them for many years, becoming their trusted partner and helping them achieve financial growth and security along the way.
Get in touch
Talk to a specialist
Our team are always happy to help.
If you have a query for us, just fill out the short form and we'll be in touch.
We think these may interest you
Related resources
Punter Southall Aspire Financial Planning is a trading name of Punter Southall Defined Contribution Consulting Limited, which is authorised and regulated by the Financial Conduct Authority. FCA Registration No. 121328. Registered office: 11 Strand, London WC2N 5HR. Registered in England and Wales No. 00873463.