Why allowing enough time is essential
Our experience helping our school clients consult with staff on whether to remain in their teachers' pension scheme hasn't always been plain sailing.
In this blog, Caroline Gaines explores the reasons why and provides tips on how to make a review process flow more smoothly...
For some schools the decision to consult with teachers on remaining in the Teachers' Pension Scheme (TPS) or its Scottish equivalents has been reasonably straightforward in that even the current level of employer contribution is unaffordable, regardless of any potential future increase.
However, for a large proportion of schools it's not so straightforward. Whilst the current contribution may be affordable, any potential future increases would not be. For these schools there is a trade off between the desire to wait for more certainty over what the future holds from the increased employer contribution rate expected to take effect in 2024 and the risk that waiting may not allow the school time to consider, plan and consult with its teachers before the new rate comes into effect.
We've found that, to help balance these risks, preparation and adequate time is key to being ready for what the future holds and, if appropriate, to managing a meaningful consultation.
To rush such an important conversation with your teachers could damage relationships and trust. Teachers will want to know that all options have been considered carefully.
The Governors of the school should make certain this is the case to ensure teachers have confidence in the decision making process. Recruiting to replace good teachers is an additional cost any school would wish to avoid.
We help schools with the TPS review process, which can easily be broken down into two stages: the initial review stage and consideration of alternative pension structures to the current TPS model, and the communication stage, communicating any proposed changes to teachers including 1-2-1s, virtual and in person presentations - if the review determines that an increase on the current model could not be sustained.

The below timeline details the stages of the review process: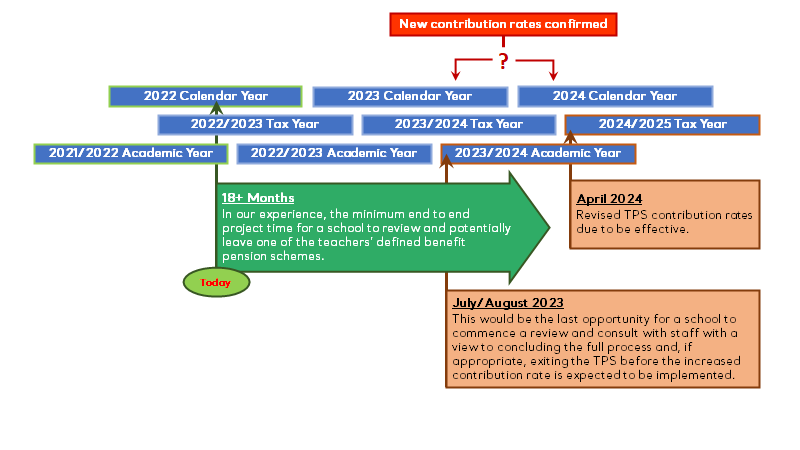 To ensure that any consultation is not rushed, Governors may wish to start their homework early in order to review and consider all options thoroughly. It will be important to allow time to consider different affordability scenarios and the impact of these on the School.
Ultimately this early preparation should then allow more time for good quality, meaningful consultation if the outcome of the next valuation were to result in the School no longer being able to afford contributions beyond 2024.
Punter Southall Aspire is impartial throughout this process. We have no vested interest in the outcome of a School's review nor the consultation and so can support the school in reaching the right conclusion – be that to remain in the TPS, leave the TPS or something else. Our work with Schools and their staff is to help ensure that they understand all the options available to help determine if a change is required or not.
As part of any consultation process, our independence and impartiality helps us communicate proposals to teachers, supported with clear pension education material and 1-2-1s if needed, to try to help understanding.
However, what we've learnt through our experience of supporting schools with such projects is that allowing lots of time is essential.
Our expert team would be delighted to help you and your school.
Click here
if you want to learn more about how we can support you