A summary of a recent study by the Office for National Statistics on over 50s
The government's number-crunchers, the Office for National Statistics, have released their latest data on what impact the pandemic had on the working lives – not health – of those aged 50 to 70.
Those with a head for detail, statistics and charts can see the Over 50s Lifestyle Study here.
And those of who you may not have the time, inclination or run in the opposite direction to spreadsheets and survey trends, allow me to run through the interesting bits on your behalf.
That's because it focuses on the age group thinking about, having done so or enjoying retirement. We help them with pension consulting, employee benefit advice and financial planning so it's in our interests, as well as theirs, to keep abreast of trends which may affect this kind of activity.
First point to make: covid heralded an unwelcome reversal of a pleasing trend, namely, the rising number of 50 and overs remaining in the workplace. The pandemic meant this age group became the only one in which what the ONS terms "economic inactivity" – not working or earning – went up.
This table gives a clearer snapshot and the research also tells us that retirement was the primary reason this exit took place. Perhaps that's not too surprising. If you were already thinking about life after work, coronavirus and its associated misery might well have sharpened your plans.
To concertina this hefty research project a bit, it then looks at the reasons 50 and overs changed their mind and returned to work (not those who had already retired) was, no surprise, to earn money, they didn't want to leave in the first place and they missed both their colleagues and the work itself.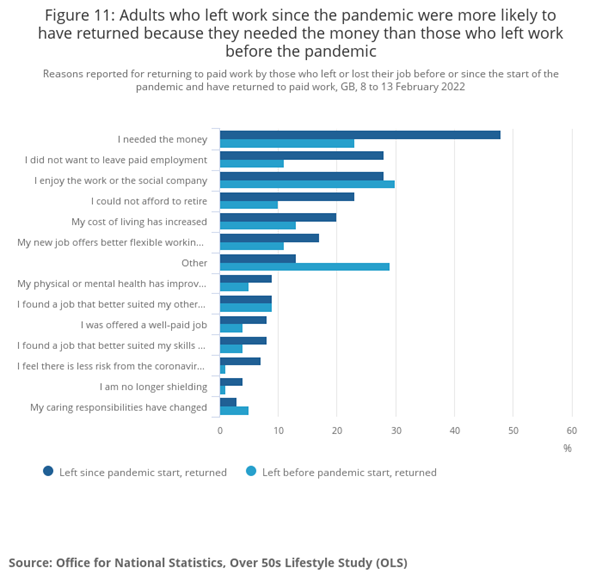 This is a telling snapshot. Our 50-plus group not only saw the biggest shake-out from the workplace than any other but, of those who didn't retire, many didn't want to go while enjoying what they did while, presumably, making a contribution?
There it is in stark terms. The people we call Mid-Life have not fared well in the post-pandemic employment stakes but clearly have the ability to bounce back.
Think, then, of what they could achieve for your company or organisation if their particular needs were met, especially in light of the finding that of those who were employees, just under half have returned to work as self-employed.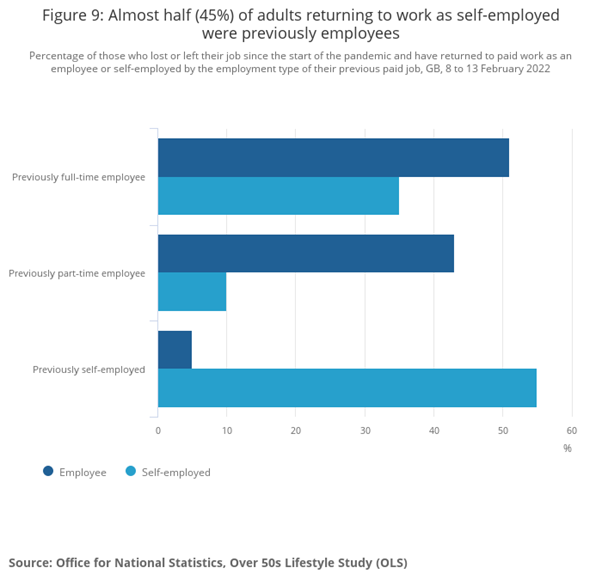 Even from my potted selection from this workforce defining research, we can see there is much progress to be made when it comes to recognising the value over-50s colleagues offer.
We've seen the Great Resignation when it comes to job vacancies and this survey also points to a Great Retirement. What I am emphasising is there is also scope for the Great Return, one in which employers recognise the changes they can make to retain, re-employ and re-energise employees whose experience and outlook will, surely, be vital in the challenging times ahead.
If this rings a bell with you as one of the over-50s or someone who employs them, I would appreciate your thoughts while leaving you with one last chart. Appreciation, it seems, is something much more multi-faceted than we may think.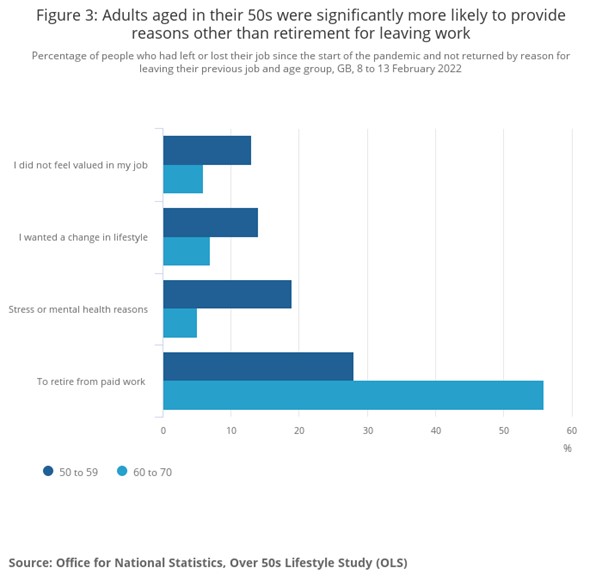 ---